Find the best cooker hoods with functional beauty for your home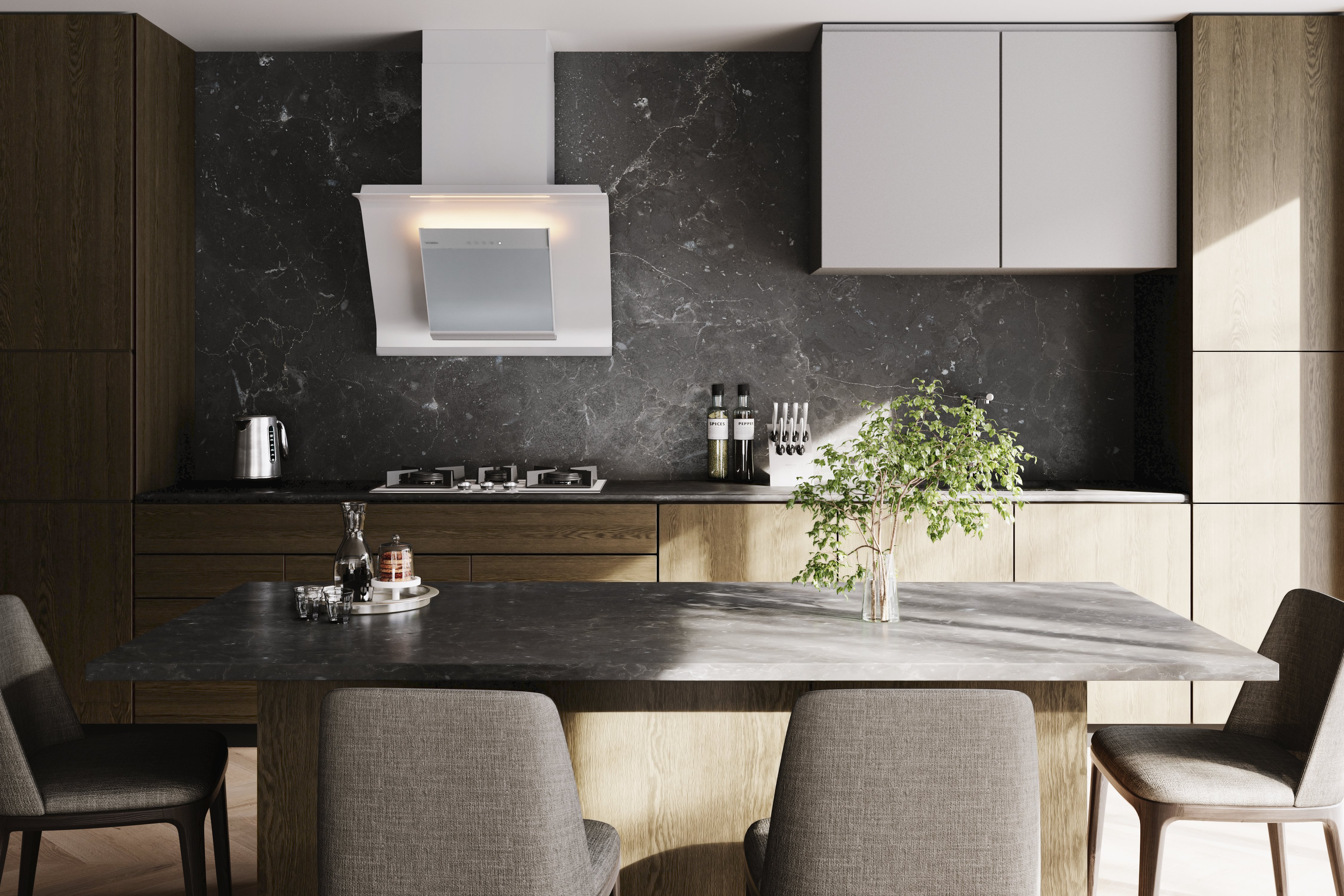 Functional beauty and cooker hoods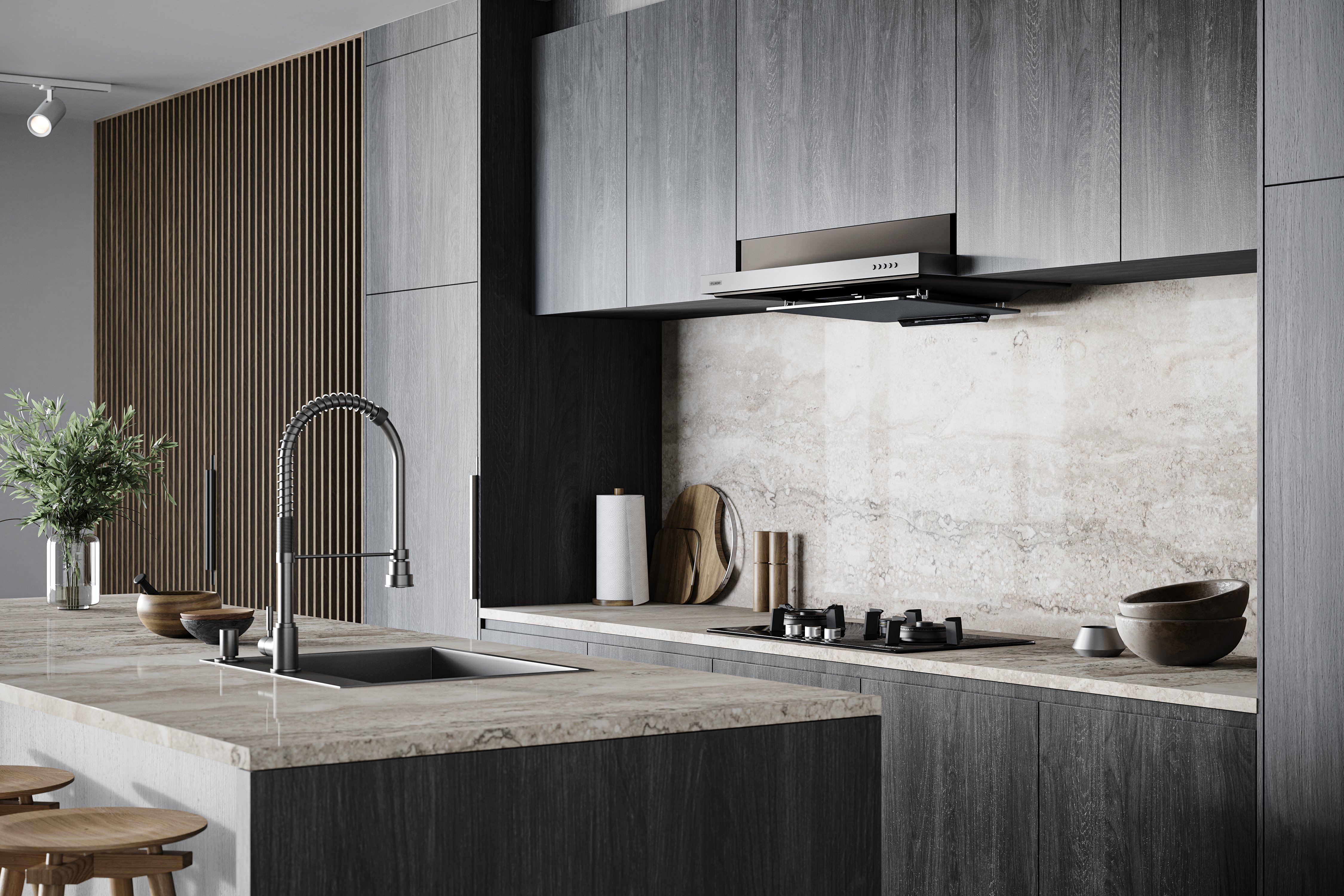 Beautifully designed products are often created as a result of careful examination and focus on their function and practicality. Such products with functional beauty are usually innovative and often have a simple stylish appearance.

Cooker hoods, certainly one of the main kitchen appliances, are no exception.  The main task of a cooker hood is to remove odors, grease, and fumes and thereby keep clean air to create a pleasant kitchen environment where you can cook, dine and relax. At the same time, since the setting area and size of a cooker hood occupy a significant part of the kitchen and is expected to be used for a long time, its design should be one that match your interior style and dresses up your kitchen.

Fine examples of cooker hoods with functional beauty are FUJIOH's CXW-265-SL and FR-FS22, which we will examine both in the next chapter. Their stylish designs were achieved by focusing on functionality. 
FUJIOH CXW-265-SL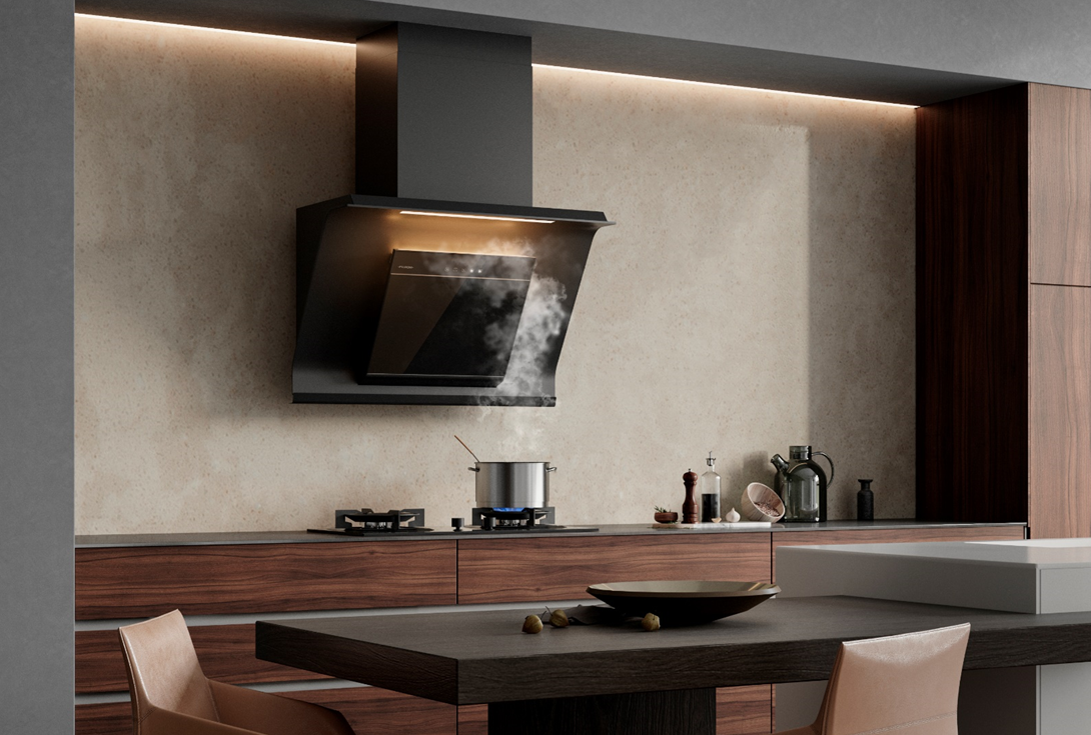 The first main feature of this product's design is its additional soft lighting (refer to 01).  Gentle indirect lights behind the front panel are installed in addition to the main lamps.
This sub-ambient lighting was inspired by Japanese aesthetics as an example of how as a soft, moody light emanates through translucent paper.
This style was designed to create a restaurant-like dining space with a warm and relaxing atmosphere.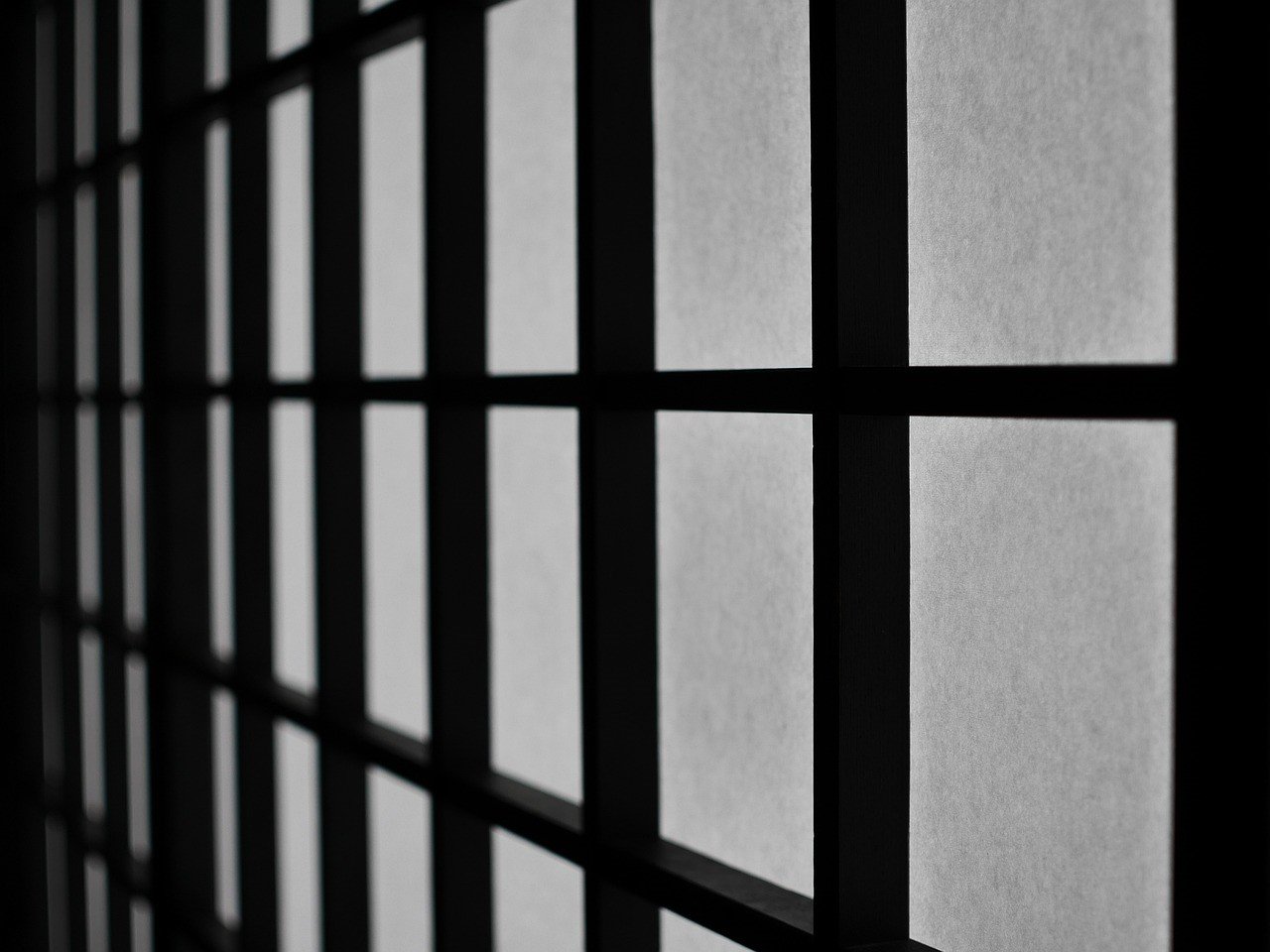 Another feature is the overall seamless design that supports a minimal mechanical appearance. Especially, the bottom oil tray (refer to 02) is smartly designed to be the same width as the main body and looks like one piece. This was originally designed from a functional point of view to have a larger tray for cooking with oil and deep frying.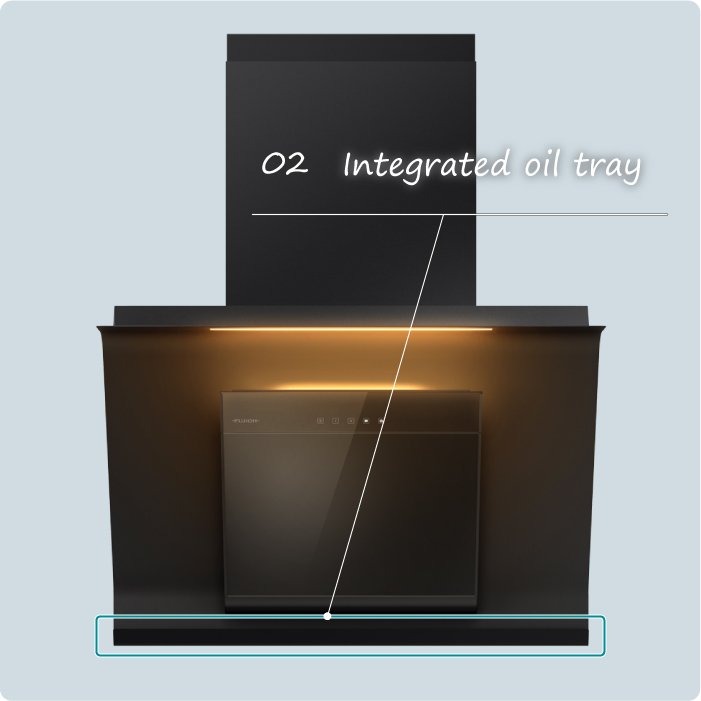 Another notable design aspect of this cooker hood is the use of a rectifier panel (refer to 03)  that covers and hides the suction inlet, rather than the open variety in traditional types. This precise design was created by improving the speed and efficiency to absorb cooking fumes while using less power. The rectifier panel makes the suction opening narrow down therefore increasing the suction speed.  This functional pursuit resulted in hiding the mechanical suction inlet in this way.
The detail for the Minimum air volume and higher suction performance can be found here.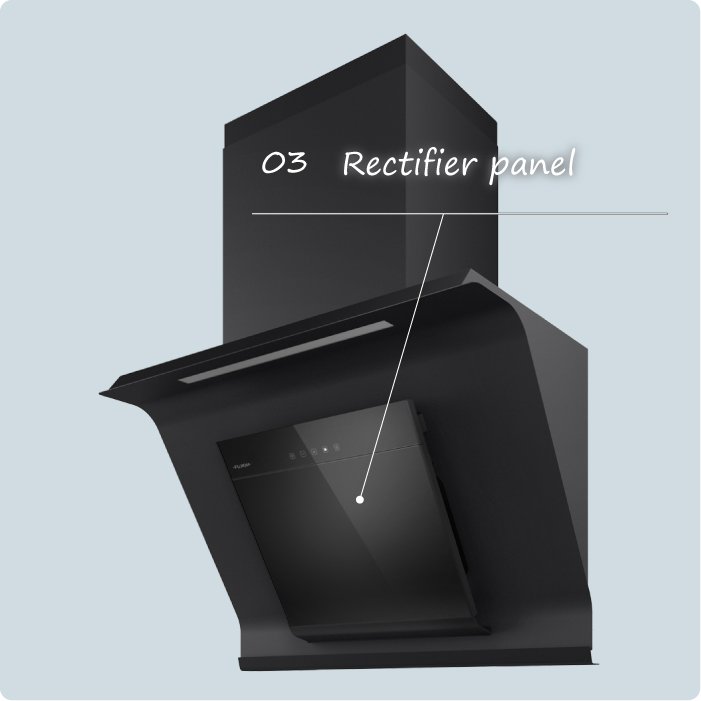 FUJIOH FR-FS22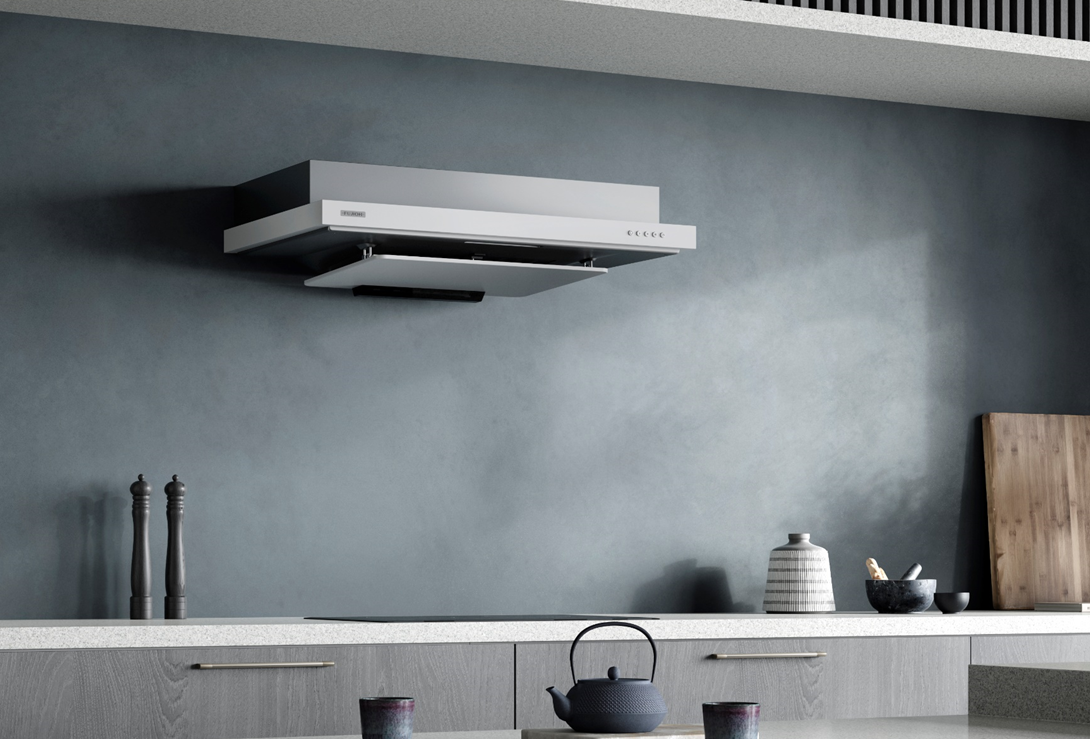 The slim and stylish appearance of this product is achieved by two different color coatings in the lower suction apparatus and the upper body part (refer to 04) .
This makes the cooker hood look as thin as the lower suction part, giving the impression the entirety of the cooker hood a slender, unobtrusive appearance. However, while at the same time looking slim, the highly effective sirocco fan which provides  an efficient suction power is well secured in the upper part.
Its special external coatings are offered in different colors (4 choices of solid color and 3 choices of two tones combination) to go along well with your own particular kitchen décor style. But this surface was not primary developed for an attractive look, but mainly for oil resistance (refer to 05) , leaving minimal stickiness to the metal surface, making for easy maintenance and minimizing both time and effort to maintain a clean hood after every use.
The details for their coating technology can be found here.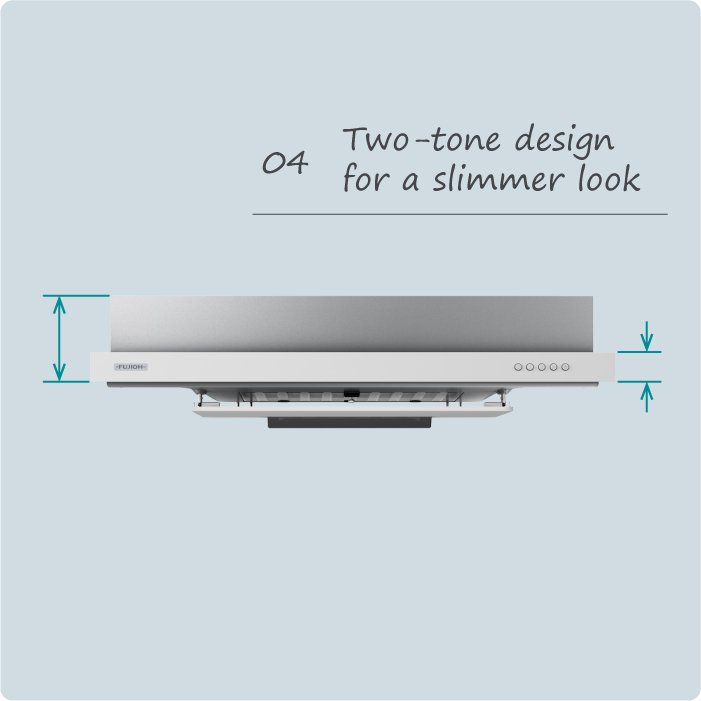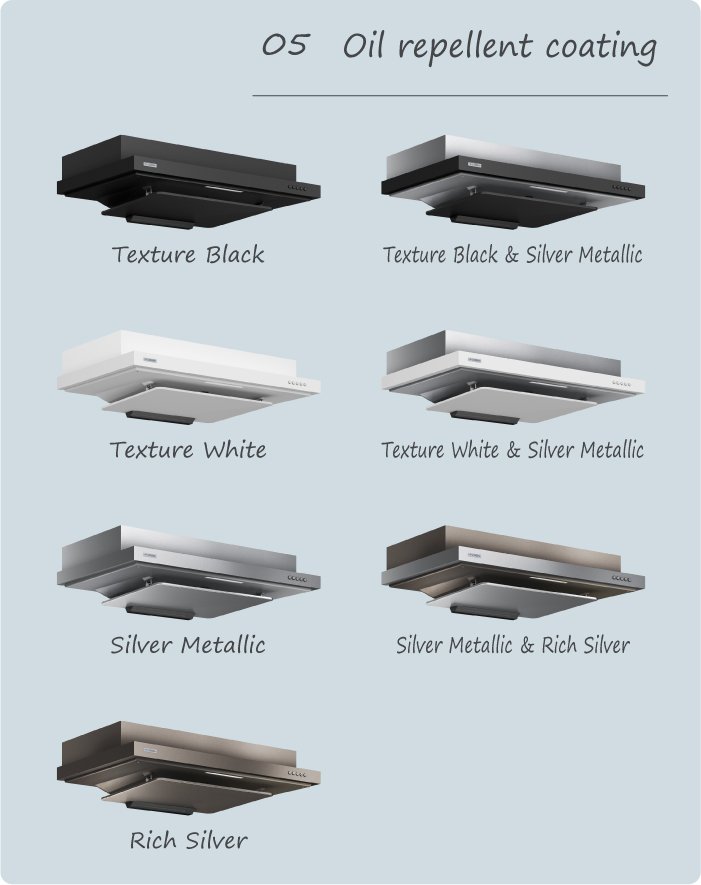 Another design feature of this product is the seamless bottom panel (refer to 06) with minimum grooves or gaps. Screw heads are used as little as possible. The seamless finishing allows for a sleek and elegant appearance. This beautiful design created from a functional point of view makes cleaning easy and prevents oil from getting into the internal body parts . Reducing oil and dirt trapped in the gap or reaching into the internal mechanical parts prolongs the life span of the cooker hood.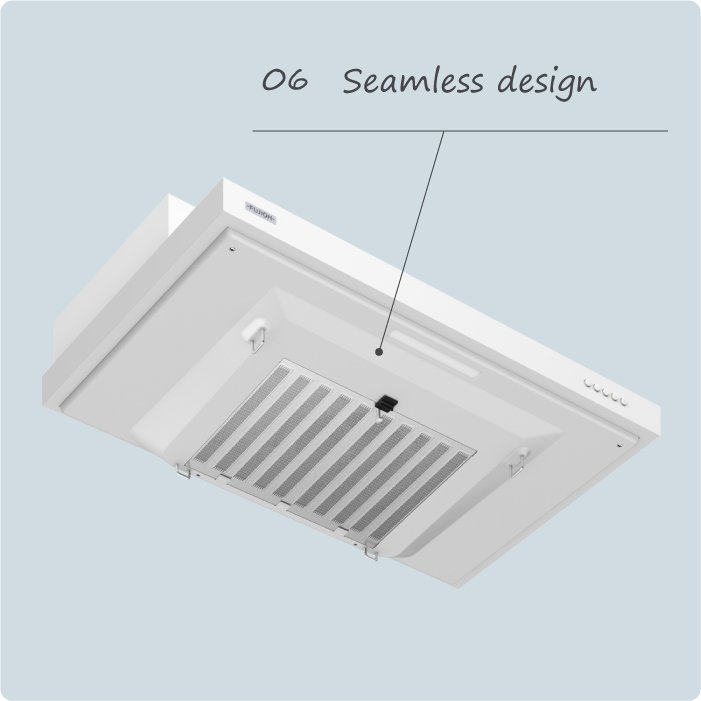 *Models available vary by country